Finding your size
By answering three simple questions, we calculate which size suits you best based on your input age, height, weight and body shape.
You only need to fill out the form once, but you can go back and adjust your answers at anytime to ensure that there is a correct match between the answers you have given and the size we recommend.
To be sure that you choose the right size, you can also check yourself and compare whether Fitle's recommendation matches your exact body measurements. For child sizes, we recommend choosing the size based on the height of the child. Most people would rather have a too big children's clothes than too little as children grow fast.
Our sizes are generally normal in size. Our products are divided into three different fits:
‌Regular fit
Training clothes for those who prefer a more classic and slightly looser fit, it should not be tight or restrictive. These garments are normal size, so choose your regular size.‌
Tight fit
Tight-fitting training and competition clothing. The clothes will sit close to the body, but not necessarily cling. It is freedom of movement and is a product that suits most people. Some people choose to adjust by buying these garments a size larger than normal.‌
Extreme fit
These products have an extremely tight fit. They are made to fit as tightly as possible on the body, and the fit is often referred to as a "second layer of skin". You should consider going up a size if you are in doubt or if your goals are between the sizes.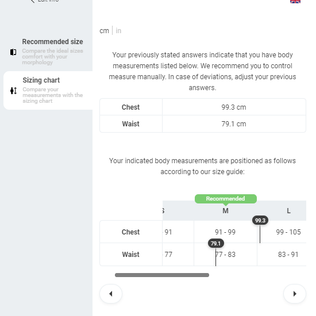 How to use Fitle
Step 1.
Go to our online store, find the product you want, and click on the measuring tape symbol with the text "What is my size" that you see visible on the product page of the product.‌
Step 2.
Fill in your goals and answer the questions that follow.‌
Step 3.
After entering your body measurements, you will see the size we recommend you to choose.‌
Step 4.
If you want to control measurements, you can click on "Size chart" and compare whether Fitle's digital measurements of you match your body measurements.
If there are discrepancies, we recommend that you adjust your initial answers to ensure better compliance before deciding on the correct size.
You can also check out our YouTube video that explains how to use Fitle.